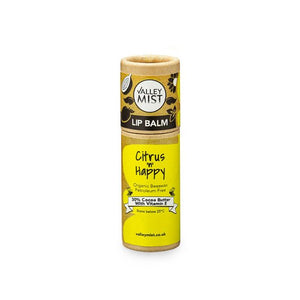 Introducing Citrus n Happy Valley Mist lip balm, the newest addition to the Valley Mist range … with more coming soon.
The clue is in the name, it's packed with citrus notes coming from the red mandarin essential oil known for being a great antiseptic and promoter of cell growth so ideal for sore lips. With added vitamin E beneficial for all skin problems including dry skin and known for it's abilities to aid the repair and appearance of damaged tissue. All of this is finished and balanced with notes of Lavender and Frankincense, with a 30% cocoa seed butter and organic beeswax foundation. The divine chocolaty smell from the high cocoa seed butter content blended with the essential oils offers a subtle mood lifting chocolate orange scent. If you're looking for something unnaturally or powerfully fragrant then Valley Mist lip balm is not for you.
Citrus n Happy soothing lip balm makes the perfect zero waste gift, the eco-friendly packaging is totally biodegradable.
If you have sore, dry lips and are prone to chapped lips you will love the protection from Valley Mist lip balms.
All natural ingredients.
Free from parabens & petroleum based compounds.
Organic cocoa seed butter, organic sunflower oil.
Organic beeswax to seal in hydration.
No added flavours or anything nasty.
Great to rub over cuticles too to nourish your nails.