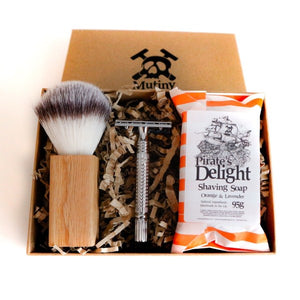 The iconic Mutiny Shaving Box in its simple, natural, understated, recyclable packaging, contains a traditional razor that will last years and give a close, smooth shave without the user suffering from razor burn or ingrowing hairs. It's better for your skin than disposable razors, better for your bank balance (as replaceable blades are very inexpensive) and better for the environment. The set also contains a synthetic shaving brush that helps exfoliate your skin and soften your stubble ready for the shave. No animals were harmed in the making of this simple, squared off, oak handled synthetic shaving brush. The oak sustainably sourced from the Scottish Highlands and proudly finished off with our Mutiny logo.
Also included is a handmade (using the traditional cold process) 'Pirates Delight' Orange & Lavender shaving soap, made entirely from 100% natural ingredients. This soap lathers up and smells beautiful with a sharp citrus scent, the soothing ability of Lavender and kaolin to add a smooth moisturising, cushioned layer to your shave. 100% natural, not tested on animals, no Parabens, no SLS, only natural, ethical ingredients. Each soap is hand cut so may differ slightly in shape.
All sets come with 5 FREE recyclable razor blades to get you started.