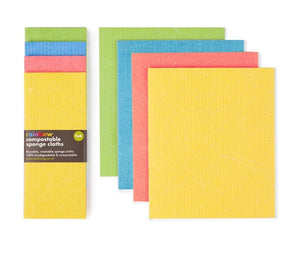 Get ready to brighten up your cleaning routine with these brilliant plastic free multi purpose cloths...unlike those yellow/green sponges these beauties do not emit micro plastic pollution so are perfect for you eco friendly home!
This set of 4 cleaning cloths are super absorbent, reusable, washable, 100% biodegradable and home compostable when finished with.
Wet the cloth first, give it a squeeze and off you go cleaning your kitchens, bathrooms, anywhere in fact! 
Cloths can be washed at 30-60c and then line dry..