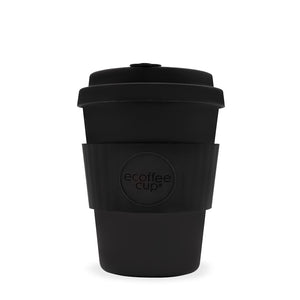 Each year over 300 billion single-use cups are manufactured and due to their plastic content, 99% will never be recycled and will eventually end up in landfill, but it doesn't have too be that way.
Introducing Ecoffee, they have created an alternative a reusable, lightweight, stylishly designed and beautiful to drink from cup..easy to carry, easy to clean so this makes for an easy swap from single-use cups too.

The Kerr & Napier is a super stylish black cup with a matching removable sleeve and a resealable black lid and stopper, so no fear of any spills or leaks when you are on the go.

These cups are great for commuting and everyday use and by having your own reusable cup when you buy your daily beverage means you're also saving money too, most coffee shops charge you less when you bring your own cup so winner, winner this will pay for itself in no time...one simple eco friendly swap that will make a big difference...
Features:

Made with bamboo fibre, cornstarch and resin
Naturally sterile, no plastic after-taste
BPA, BPS and phthalate-free
High grade, latex-free silicone lid and sleeve
Re-sealable 'no-drip' lid
Fully dishwasher safe
Not suitable for microwave
Eco friendly packaging