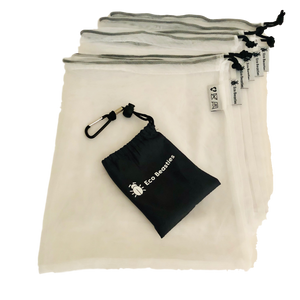 Say goodbye to those single use plastic produce bags and hello to our stylish, convenient and ever so practical reusable produce bags that are a fantastic eco friendly addition to your grocery shopping.
These nifty little bags each come with a drawstring top, are see completely see through and extremely light so as not to add any additional weight to your chosen produce when popped on the scales.
Each carry pouch contains 6 produce bags with care instruction labels and can be attached to your bag-for-life by its durable carabiner clip (so you never forget it).

Our bags are made from recycled plastic drink bottles (rPET) and have a soft mesh feel and appearance making them fully breathable keeping your produce fresher for longer.
These mesh bags allow for ventilation as well as allowing water through so you can use them to wash your veggies in the bag and can be gently hand-washed in cool water when needed or they can be put on a cool cycle (30 degrees) in the washing machine.
Made from BPA Free, Food Safe, rPET material
Weighing less than 10 grams per bag
Each bag holds up to 2 kg 
The bags each measure 32cm wide x 25cm high
100% Vegan Friendly
Machine Washable