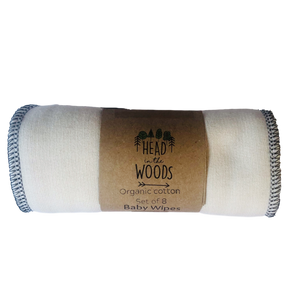 These wipes from the lovely people at Head in The Woods are a great replacement for single use baby wipes. 100% cotton, super soft, a generous size, and reusable over and over again.
To use, store your wipes wet in a container or run under the tap as and when you need them. Don't store wet wipes for longer than 48 hours.

Tip for changing dirty nappies: have a small glass spray bottle at hand that's filled with 50/50 water and oil. Shake thoroughly, then spray directly on baby's bottom before wiping. It cleans up even easier, and leaves the skin moisturized.

Dirty wipes can be stored in any container before washing. If used for dirty nappies, soaking in a nappy cleanser is recommended before washing.

The wipes can be washed at up to 60 degrees and are dryer safe.
Tip for out and about: fill one wet bag with some ready wet wipes and have an empty one to keep any dirty ones in until you're home.
Cotton is fully biodegradable and will degrade naturally at the end of use.
8 wipes per pack