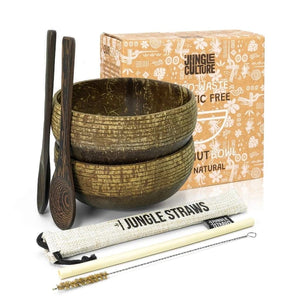 Eco-friendly coconut bowls and spoons by Jungle Culture are hand made by skilled artisans in Southern Vietnam. Our sustainable buddha bowls currently come in five unique eco styles. Each coconut bowl and spoon set is organic and natural, so size and shape may vary slightly from our pictures, but we think this adds to their charm!

Your coconut shell bowls and spoons are perfect for making vegan smoothie bowls, breakfast bowls, acai and ramen bowls and more. 

Set Contains: 
2 x Eco-friendly Coconut Bowls
2 x Reclaimed Wooden Spoons
1 x Jungle Straw (Bamboo Straw)
1 x Coconut Fibre Straw Cleaning Brush
1 x Natural Jute Straw Sleeve
Coconut Bowl Dimensions - 12.5cm - 14cm (Width), 6cm - 7cm (Height) 
Wooden Spoon Dimensions - 19cm (Length), 3.5cm (Width) 

Box Size Dimensions 16cm (Width/Length/Height)

Please Note:

These bowls are 100% natural and organic. Size, shape and colour varies slightly from bowl-to-bowl.