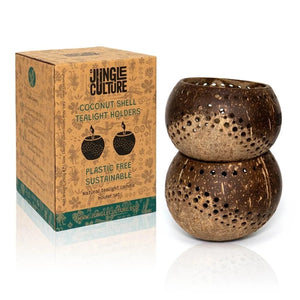 Our coconut shell tea light holders are made using 100% real and natural coconuts. Coconut shells are traditionally discarded once the meat and oils have been harvested for other cosmetic products, leaving the shells to be burned or discarded.

Our talented artisan craftspeople carve these discarded shells into handicrafts that provide a valuable secondary income for the farmers and provide jobs for local artists.

Our tea light holders are designed geometrically to produce stunning symmetrical lighting effects! They are perfect for in the house or for garden parties.  
Packaged in recycled Kraft paper box they make fantastic gifts! 
Please note: these tea light holders are made from 100% natural coconuts. Size, colour and shape will vary based on each individual coconut.  due to the nature of the product the size of each holder varies slightly. 
 
They are 100% organic and coated only with virgin coconut oil!