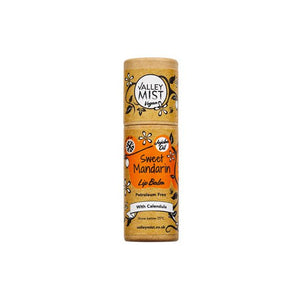 Valley Mist Sweet Mandarin Vegan lip balm makes the perfect zero waste gift, for those who prefer a totally vegan option.
Nourish and protect your smile naturally with Valley Mist's sweet Mandarin vegan lip balm. Valley Mist Sweet Mandarin lip balm is part of a natural cosmetics collection of four vegan variants, each containing organic cocoa seed butter as the foundation, with sustainably sourced organic Soy wax lovingly balanced with Calendula infused oil and organic sunflower oil.
You will definitely notice the gentle chocolaty scent from the high cocoa seed butter content but more over the citrusy red mandarin oil but if you're looking for something unnaturally fragrant then Valley Mist lip balm is not for you. All 100% natural ingredients, mostly organic.
Valley Mist are so proud to offer both a lip balm tube and outer packaging made from paperboard only. 
Advisory note for all vegan blends: Valley Mist Vegan ingredients are temperature sensitive and if they get a little too cold they sometimes grip the side the Ecotube with finger bending strength! If you find that your lip balm refuses to budge, just take a few moments to warm the tube between your palms or against any warm body part of choice to facilitate a smooth and easy movement. As always in life, the best things sometimes take just a little more time and effort to achieve but they are always worth it.
Ingredients: Free from parabens & petroleum based compounds.
Organic Cocoa seed butter, organic Soy wax, Calendula infused oil, organic Sunflower oil and organic Jojoba oil, Red mandarin and Frankincense essential oils
No added flavours or anything nasty
Great to rub over cuticles too to nourish your nails
Plastic Free
Vegan
Zero Waste
10g